Today's Felt.Buzz Spotlight is on the Enchanted Art of Helen Winder.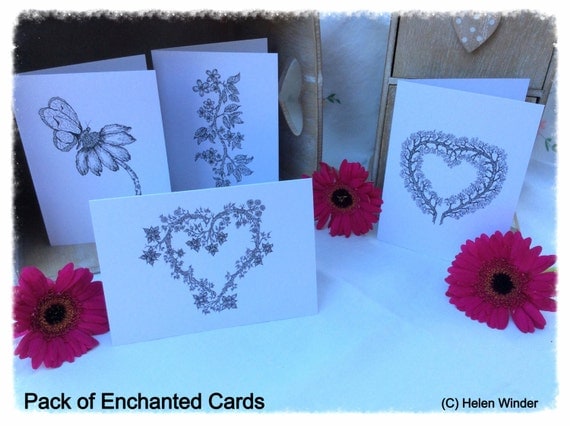 Helen and I know each other outside of the virtual world; we were neighbours when growing up, she lived about 50 metres from me, although we haven't seen each other in over 25 years, we met up in Facebook land a couple of years ago.
Helen is a successful business woman, she runs Transire, which enables the positive transformation of the business world through professional outsourcing solutions, business consultancy and mentoring, working with individuals, entrepreneurs and corporate organisations. She is also Transformational Business Mentor, drawing on her skills and experience both in the buisness world, and her personal life.
Helen is the kind of person who always seems to be on the go. Her idea of a rest is not to sit down and have a doze, but to get up and do something else.
In contrast with her busy life, Helen's art seems to ooze relaxation and calm: "I started sketching by way of relaxation. I am not one to stop and do nothing so I thought I would use my sketches as a way of de-stressing. I created my etsy shop as I wanted to share my creations with others. I put a lot of emotional effort in to each sketch and felt that others would benefit from them."
She has just completed a new range of sketches which should be available for sale from the beginning of August 2014
As well as the Etsy shop, several facebook pages, a blog, and a website Helen also has several busy Twitter accounts

Each purchase will help Helen raise funds for The Stroke Association and Different Strokes
https://www.etsy.com/uk/shop/HelenWinder
http://www.thelittlebritishcompany.co.uk/helen-winder-316-c.asp
Disclaimer: This review has not been asked for or paid for in any way. I wrote it because I like Helen's work, and her interactions in social media.
If you like this post, please consider liking my facebook page too! Thank you 🙂